(Illustration found here).
As weather events are more and more being closely tied to climate change and the short shadow from the just-completed COP26 (which was another climate-action cop-out) is still weighing heavily in the brain, the storms in the Pacific Northwest keeps reminding all of us of a dire and precarious future close at hand — like, right here and now.
In southern British Columbia and northwestern Washington state climate change is a reality. An 'atmospheric river' last week that virtually isolated the city of Vancouver from the rest of Canada, dropped 10 inches of rain in less than 24 hours, leaving thousands of people stranded, many still nearly a week later.
All this shit comes less than five months after the most-extreme heat wave in global history affected the same region, fueling destructive wildfires. And like my state of California, they're part of the 'whiplash weather' routine nowadays of dry-to-wet shifts from year to year as the climate warms and warms. Those 'atmospheric rivers' are part of that nasty whiplash that will plague us now forever — Daniel Swain, a climate scientist at UCLA, noted a couple of years ago: '"There has been an assumption that the main thing we have to contend with climate change is increased temperatures, decreased snowpack, increased wildfire risk … Those things are still true, but there is this other dimension we will have to contend with — the increased risk of extreme flood and drought, and rapid transitions between the two."'
Hence, the quick whip from dry to wet, which makes most-obvious our climate is quickly changing:
British Columbia's Flooding Is Worse Because of Climate Change

— Mike Walker (@New_Narrative) November 21, 2021
A shining example of climate change hard at work within the same location, a notion of future predicaments — per The New York Times this morning:
It was the second time in six months that the province had endured a major weather-related emergency, and experts say the two disasters are probably related to changes in the climate.

British Columbia has been besieged this year by record-breaking heat, wildfires and floods. The disasters have killed hundreds — including three people in the recent rains — and caused hundreds of millions of dollars in damage.
The impact has rippled across Canada after hobbling the province and the port of Vancouver, which is vital to the country's economy.

"In the last six months, B.C. has both burned and drowned," said Merran Smith, the executive director of Clean Energy Canada, a climate program at Simon Fraser University in Vancouver.
"So there's really no greater evidence of climate change right now than here in British Columbia."

In July, record temperatures as high as 121-degrees Fahrenheit brought drought and uncontrollable wildfires.
The heat, which was concentrated in the province's interior, killed 595 people from June to August, and fire consumed an entire town.

The floods last week have spared more lives but have destroyed vital infrastructure and left freight to pile up at Vancouver's port, Canada's gateway to Asia.
The country's supply lines have been disrupted as well at a time when American ports are too backed up to offer much help.

Experts said that events in this sequence — heat, fire, drought, flood — could produce so-called compound effects.

A drought can dry out vegetation, which in turn can fuel and intensify fires.
Fire itself can weaken or kill plants and make the soil less permeable, meaning that rain is more likely to run off rather than soak in, causing flash floods and landslides.

Rachel White, a professor at the University of British Columbia who studies how large-scale atmospheric patterns contribute to extreme weather, said it was impossible to say for sure whether the extraordinary heat and the devastating rains resulted directly from climate change.
"We need to do more research to really try and understand what's going on here," she said.
"Is this also a sign of climate change or did British Columbia just get incredibly unlucky this year?"

However, she said, one thing is certain: "These events were made worse because of climate change."
Of course, required words for the near future:
Ms. Smith of Clean Energy Canada said that Prime Minister Justin Trudeau's government had a credible and ambitious climate plan but that the country had yet to rein in its oil and gas industry, particularly oil sands operations based largely in neighboring Alberta.

"We need to reduce the emissions from the oil and gas sector; it is one of Canada's biggest challenges," she said.
"All of these other good policies, we need to see them implemented without delays. There's a lot of inaction that gets disguised as flexibility, and we're past that time."
Yeah, right. What about in the good-ole US of A, and climate change vs oil and gas? Joe Biden's administration performed a flip-flop last week — per CNBC last Wednesday:
The Biden administration on Wednesday is opening more than 80 million acres in the Gulf of Mexico to auction for oil and gas drilling, a record offshore lease sale that will lock in years of planet-warming greenhouse gas emissions.

The lease sale is a major reversal of Biden's commitment to shut down new oil and natural gas leases on public lands and waters and comes just days after the president's pledge to slash emissions during the United Nations climate summit in Glasgow, Scotland.

The lease sale has the potential to emit more than 516 million metric tons of greenhouse gas emissions into the atmosphere — the equivalent to annual emissions of 130 coal-fired power plants or 112 million cars, according to the Center of Biological Diversity.

"This administration went to Scotland and told the world that America's climate leadership is back, and now it's about to hand over 80 million acres of public waters in the Gulf of Mexico to fossil fuel companies," House Natural Resources Committee Chairman Raúl Grijalva, D-Ariz., said in a statement.
And to make matters worse, and in context to required climate action, new observations report more methane gas is being released than thought — a good part of it through asshole 'super-emitters' who are not following the rules — story via Space.com last week:
Huge amounts of uncounted emissions of highly warming greenhouse gas methane are being released by "super-emitters" all over the world, satellite observations reveal.

Scientists have only recently worked out how to detect methane emissions from space, but what they have seen since has taken them by surprise.
The greenhouse gas, which is 80 times more potent than carbon dioxide, is leaking from gas pipelines, oil wells, fossil fuel processing plants and landfills all over the world.
It is frequently released through negligence and improper operations; the emissions, in many cases, are not accounted for in mandatory greenhouse gas inventories.

"We see quite a lot of those super-emitters," Ilse Aben, senior scientist at the Netherlands Institute for Space Research (SRON) told Space.com.
"These are large emissions, and we see a lot of them on the global scale — much more than we had expected."
…
"These emissions actually relate to flare installations that are not being flared in the oil and gas industry," said Aben.
"Flaring is meant to get rid of the methane gases by burning them. It would obviously be better to capture the gas, but they are not even burning it. It's just methane pouring out, and that is not normal operations."
COP26 my ass — excepting for some wonderous event, sadly Pinball nailed it one more time:
And once again, here we are…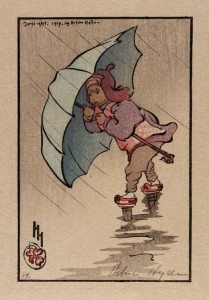 (Illustration out front: 'The Blue Umbrella," (1914), color woodcut on paper, by Helen Hyde, and found here).