Cool and breezy this Friday morning here in California's Central Valley, loving the delay in the heated-summer days immediately ahead — and also grasping the pre-Friday news dump drop from last night, where it was disclosed Billy Barr's DOJ subpoenaed Apple for data on a load of people, including  Adam Schiff, Eric Swalwell, along with their families, and at least minor kid.
Everybody's calling for an investigation into this shit, including Schiff: '"It violates, I think, the separation of powers, but it also makes the Department of Justice a fully owned subsidiary of the president's personal legal interests," Schiff, who was targeted in the subpoena, said in an interview with MSNBC's Rachel Maddow.'
And Nancy Pelosi, too: '"The news about the politicization of the Trump Administration Justice Department is harrowing. These actions appear to be yet another egregious assault on our democracy waged by the former president … I support Intelligence Committee Chairman Adam Schiff's call for an investigation into this situation and other acts of the weaponization of law enforcement by the former president. Transparency is essential."'
The scoop last night came from The New York Times:
Prosecutors, under the beleaguered attorney general, Jeff Sessions, were hunting for the sources behind news media reports about contacts between Trump associates and Russia.
Ultimately, the data and other evidence did not tie the committee to the leaks, and investigators debated whether they had hit a dead end and some even discussed closing the inquiry.

But William P. Barr revived languishing leak investigations after he became attorney general a year later.
He moved a trusted prosecutor from New Jersey with little relevant experience to the main Justice Department to work on the Schiff-related case and about a half-dozen others, according to three people with knowledge of his work who did not want to be identified discussing federal investigations.

The zeal in the Trump administration's efforts to hunt leakers led to the extraordinary step of subpoenaing communications metadata from members of Congress — a nearly unheard-of move outside of corruption investigations.
While Justice Department leak investigations are routine, current and former congressional officials familiar with the inquiry said they could not recall an instance in which the records of lawmakers had been seized as part of one.

Moreover, just as it did in investigating news organizations, the Justice Department secured a gag order on Apple that expired this year, according to a person familiar with the inquiry, so lawmakers did not know they were being investigated until Apple informed them last month.
Last month! I don't recall any kind of shitstorm, or much of anything. In retrospect of the horrors of the T-Rump and his ass-kissing AG Billy Barr, the entire governmental operation needs to be way-more transparent, and way-more involved in investigating/making-public the corruption off the last four years.
All this shit right now does invoke this from more than two years ago:
Flashback: May 2019

Harris: Has the president or anyone at the WH ever asked or suggested that you open an investigation of anyone?
Barr: Um.
…
Harris: Seems you'd remember something like that and be able to tell us.
Barr: Yeah, but I'm trying to grapple with the word suggest. pic.twitter.com/y8ewAgVAgE

— Kyle Griffin (@kylegriffin1) June 11, 2021
Doesn't take a Rhodes scholar to connect the dots, and with this latest reports on criminal efforts, the video makes it even worse:
In a true, real world, that entire exchange should set off warning bells, red lights and all kinds of noise about Billy Barr trying to not lie by side-stepping the truth. Lately, a major deep-pull feeling for me about Joe Biden's term so far is his people are trying to pull an Obama-stunt on 'looking forward, not backward' in exposing the horrors of the T-Rump years — there was so much dishonesty, deceit and abuse by T-Rump and his 'appointed' people this country will never see a straight road until the past is held-up to accountability.
And Biden's AG, Merrick Garland, is revealing himself to be either an asshole, or a scaredy-cat. You can't be both, but then again, maybe.
Eric Lutz at Vanity Fair this morning took a look at the blowing-off of the T-Rump criminal doings:
There has been growing — and understandable — frustration among Democrats with Merrick Garland's Justice Department in recent weeks. He's not acting as Joe Biden's personal attorney and fixer, as William Barr did for Donald Trump.
He's promising to fight for voting rights rather than working to sow doubt in the electoral process, like his predecessor.
But Biden's attorney general has maintained a maddening continuity from Barr's DOJ, going to bat for the former administration to keep secret a memo used to clear Trump in Robert Mueller's Russia probe and to protect the ex-president against a lawsuit by writer E. Jean Carroll, who accused him of rape.

Those moves have provoked some righteous consternation, but it turns out the DOJ isn't the only Biden agency to defend Trump-era positions.
According to the Washington Post, the General Services Administration is trying to keep a tight grip on documents Democrats are seeking in their probe into Trump's Washington, D.C. hotel, holding back some of the material from congressional investigators and seeking to keep it from becoming public.
…
The fight, it appears, is not over just because Trump is out of office.
"The committee has an ongoing, pressing need for these materials and is continuing to seek them from GSA," a Maloney representative told the Post.
Some materials, including hotel financial statements, have been released to lawmakers, and a spokesperson for Representative Peter DeFazio, chair of the House Transportation and Infrastructure Committee, told the paper that the Biden team has been "far more cooperative" than Trump's.
But that's not a high bar to clear, and watchdogs are frustrated with the GSA and DOJ's "trend of making decisions toward secrecy and away from accountability" for the previous administration.
"I hope," Noah Bookbinder, president of the Citizens for Responsibility and Ethics in Washington, told the Post, "that they don't continue to go in that direction."
I was fucking floored by the E.Jean Carroll bullshit, could not believe it.
So were many others — via Vox on Wednesday:
The Biden administration just did something many of its supporters would've thought unthinkable: It backed the Trump administration in a court case involving a rape allegation against Donald Trump.
Even the four Justice Department lawyers who filed a brief defending Trump Monday night appear painfully aware they are doing something unseemly.

"Then-President Trump's response to Ms. Carroll's serious allegations of sexual assault included statements that questioned her credibility in terms that were crude and disrespectful," the brief begins.
It labels Trump's actions "unnecessary and inappropriate," and at one point appears to concede that the allegations against Trump "cast doubt" on his "fitness for office."

And yet, the Biden Justice Department ultimately argues that Carroll v. Trump, a case arising out of a rape allegation against the former president, should be dismissed.
Fucking crazy! Read a good-wrap on Carroll's story with the T-Rump at The New Yorker.
If Garland's boys win out, then American presidents can do anything and not be held accountable, even near-two decades before becoming POTUS — we're on a seriously dark road right now, coming and going.
Just don't tell me it's all gone and over:
"Well, I used to wake in the morning, get my breakfast in bed
When I'd gotten worried she'd ease my aching head
But now she's here and there, with every man in town
Still trying to take me for that same old clown"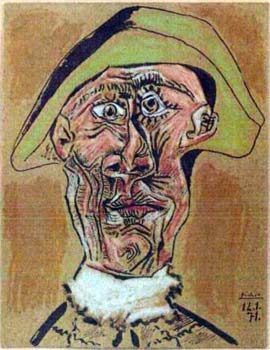 (Illustration out front: Pablo Picasso's 'Harlequin Head,' found here),