Sunny and nice this late-afternoon Tuesday here in California's Central Valley, weather as an indicator of living.
Meanwhile far to the East, the House select committee on the Jan. 6 insurrection/riot calls contempt for Steve Bannon — the full House will vote on it supposedly on Thursday — and the T-Rump continued to show his ugly sense of self by spiking down Colin Powell: 'Wonderful to see Colin Powell, who made big mistakes on Iraq and famously, so-called weapons of mass destruction, be treated in death so beautifully by the Fake News Media. Hope that happens to me someday. He was a classic RINO, if even that, always being the first to attack other Republicans. He made plenty of mistakes, but anyway, may he rest in peace!'
And anyway, too, critics rang his bell as being a monster — a description, "malevolent, spiteful, narcissistic" from just one review.
Beyond the insurrection/coup, obstruction of justice, lying, corruption on a massive scale, cruelty the point in governance, and whatnot, T-Rump's most horrid act was a crime against humanity — his allowing hundreds-of-thousands of Americans to die needlessly from his thoughtless, incompetent handling of the COVID pandemic.
And a report this afternoon from Brazil amplifies it even further:
The same is true of Trump, Pence and Kushner. America's prosecutors should step up and charge these three with negligent homicide/criminally reckless homicide/involuntary manslaughter (depending on the state jurisdiction). https://t.co/w0F19tvPl4

— Glenn Kirschner (@glennkirschner2) October 19, 2021
In near-about similar circumstances, the T-Rump's whole-ass crew intentionally killed Americas for political effect, just like his shitheel be-alike Bolsonaro — from the New York Times late this afternoon:
A Brazilian congressional panel is set to recommend mass homicide charges against President Jair Bolsonaro, asserting that he intentionally let the coronavirus rip through the country and kill hundreds of thousands in a failed bid to achieve herd immunity and revive Latin America's largest economy.
…
From the outset of the pandemic, Mr. Bolsonaro has gone out of his way to minimize the threat of the virus. As countries around the world locked down, and his own people began filling hospitals, he encouraged mass gatherings and discouraged masks. An avowed vaccine skeptic, he lashed out at any who dared criticize him as irresponsible.

Those actions, the report argued, amounted to mass homicide.
Sound familiar. Research indicates the horror of what T-Rump and his crew, especially flavored son-in-idiot, Jared Kushner, did was in the realm of mass homicide.
Considered the best source for such study, William Saletan's epic piece at Slate in August 2020 chronicled the record and showed step-by-step how T-Rump fucked the country — some high-(low)-point snips:
This isn't speculation. All the evidence is in the public record. But the truth, unlike Trump's false narrative, is scattered in different places. It's in emails, leaks, interviews, hearings, scientific reports, and the president's stray remarks.
This article puts those fragments together. It documents Trump's interference or negligence in every stage of the government's failure: preparation, mobilization, public communication, testing, mitigation, and reopening.

Trump has always been malignant and incompetent. As president, he has coasted on economic growth, narrowly averted crises of his own making, and corrupted the government in ways that many Americans could ignore.
But in the pandemic, his vices — venality, dishonesty, self-absorption, dereliction, heedlessness — turned deadly. They produced lies, misjudgments, and destructive interventions that multiplied the carnage.
The coronavirus debacle isn't, as Trump protests, an "artificial problem" that spoiled his presidency. It's the fulfillment of everything he is.
…
Trump would later claim that he saw from the outset how grim the situation was. That was clear, he recalled, in the "initial numbers coming out from China." But at the time, he told Americans everything was fine. "We're in great shape," he assured Maria Bartiromo in a Fox Business interview on Jan. 22.
"China's in good shape, too." He preferred to talk about trade instead. "The China deal is amazing, and we'll be starting Phase Two very soon," he said.
On CNBC, Joe Kernen asked Trump whether there were any "worries about a pandemic." "No, not at all," the president replied. "We have it totally under control."
When Kernen asked whether the Chinese were telling the whole truth about the virus, Trump said they were.
"I have a great relationship with President Xi," he boasted. "We just signed probably the biggest deal ever made."
…
By then, the number of confirmed infections in the United States had surged past 4,000. But that was a fraction of the real number. The CDC would later calculate that in the three weeks from "late February to early March, the number of U.S. COVID-19 cases increased more than 1,000-fold."
And researchers at Columbia University would find that the final two-week delay in mitigation, from March 1 to March 15, had multiplied the U.S. death toll by a factor of six.
By May 3, the price of that delay was more than 50,000 lives.
…
Trump interfered with every part of the government's response. He told governors that testing for the virus was their job, not his. When they asked for help in getting supplies, he told them to "get 'em yourself."
He refused, out of pique, to speak to House Speaker Nancy Pelosi or to some governors whose states were overrun by the virus. He told Vice President Mike Pence not to speak to them, either.
He refused to consult former presidents, calling them failures and saying he had nothing to learn from them.

Trump didn't just get in the way. He made things worse. He demanded that Wisconsin hold elections in early April, which coincided with dozens of infections among voters and poll workers. (Some researchers later found correlations between infections and voting in that election; others didn't.)
He forced West Point to summon cadets, 15 of whom were infected, back to campus to attend his commencement speech in June. He suggested that the virus could be killed by injecting disinfectants. He persistently urged Americans to take hydroxychloroquine, a malaria drug, despite research that found it was ineffective against the coronavirus and in some cases could be dangerous. Trump dismissed the research as "phony."
Saletan's conclusion:
It's hard to believe a president could be this callous and corrupt. It's hard to believe one person could get so many things wrong or do so much damage. But that's what happened.
Trump knew we weren't ready for a pandemic, but he didn't prepare. He knew China was hiding the extent of the crisis, but he joined in the cover-up. He knew the virus was spreading in the United States, but he said it was vanishing.
He knew we wouldn't find it without more tests, but he said we didn't need them. He delayed mitigation. He derided masks. He tried to silence anyone who told the truth.
And in the face of multiple warnings, he pushed the country back open, reigniting the spread of the disease.
Go read the whole piece, but it's shitty and will make you madder-than-shit. As of today, reportedly there's been 748,511 US death due to COVID — a large chunk of that total on the back of one asshole.
Even worse, the T-Rump, Jared, and all the rest will never face any kind of accountability in this tragedy. Just like with the insurrection.
Shit-on-a-stick.
Once again, here we are…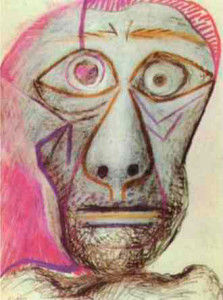 (Illustration out front: Pablo Picasso's 'Self Portrait Facing Death' (June 30, 1972), was originally found here)