A way-politicalized, straight-on clip that's now all over the InterWebs since this morning, sure you've probably already seen it — I'm just going to pop it here where I can click on the post (especially from my iPad) see it again and again — right on the bulbous, enflamed nose:
There's more in the air right now than just faded light this Friday evening here in California's Central Valley — along with a post-anniversary Jan. 6 insurrection/riot feel to the digital ether the pandemic seems to be surging still out of control. There's a virus floating high in brick-and-mortar democracy as well as with the flesh of Americans.
Although Joe Biden said today COVID will be brought under control and beaten, "The new normal is not going to be what it is now, it's going to be better," yesterday six of his former health advisers during transition called for a "new normal" in handling the virus. Live with it, in other words.
Biggest problem is not living with it, but dying.
In this nutcase, anti-science/anti-health-care era a new category/genre: Ironic insanity, if there's such a thing, self-centered, ironic insanity (BusinessInsider): 'Two lawyers arguing against the Biden administration's vaccine mandate before the Supreme Court on Friday will have to do it remotely after testing positive for COVID-19, according to a Reuters report.'
Obvious to any observer, even a casual onlooker, the drop-bucket for gaining control with COVID (or, for that matter, climate change) is the assholes on the right side of the aisle — Republicans would rather die than have anything to do with a proposition coming from the left. However, it's not, it's coming from common-sense science and reality.
Assholes, too, on the bench of the Supreme Court, who most likely, will shut down Biden's vaccine mandates for businesses.
Main thrust (NYT this evening):
Perhaps the most critical issue for the Biden administration was how the court would respond to the employer vaccine-or-testing mandate.
The administration estimated that the rule would cause 22 million people to get vaccinated and prevent 250,000 hospitalizations.
It was issued in November by the Labor Department's Occupational Safety and Health Administration, or OSHA.

Employers are allowed to give their workers the option to be tested weekly instead of getting the vaccine, though they are not required to pay for the testing.
The rule makes an exception for employees with religious objections and those who do not come into close contact with other people at their jobs, like those who work at home or exclusively outdoors.
Under a 1970 law, OSHA has the authority to issue emergency rules for workplace safety, provided it can show that workers are exposed to a grave danger and that the rule is necessary.
We're in a freaking emergency for crying-out-loud, and the real-time science really demands it:
An unvaccinated 30-49 year-old is more likely to die from COVID than a vaccinated 65-79 year-old.

But the GOP-stacked Supreme Court doesn't care, they're going to use antivax propaganda to rewrite national policy and we're supposed to pretend it's a principled legal decision. https://t.co/jTEalwq8Z7 pic.twitter.com/HXKCKU5pbf

— Max Kennerly (@MaxKennerly) January 7, 2022
And this has become nearly 'normal' on the stage of the ironically insane:
Cristen Weldon was a COVID denier and QAnon acolyte who spoke at a June health freedom conference called "Awakening the Dead." She is now dead of COVID. pic.twitter.com/ET76lkaj5z

— Mike Rothschild (@rothschildmd) January 7, 2022
Or this horror-tell of an ironically-insane love story:
Or they could have gotten vaccinated and lived? https://t.co/t7DyhPCBFB

— Molly Jong-Fast (@MollyJongFast) January 7, 2022
Sad as shit.
And to close us out this evening a return to the words in the insurrection/riot muskrat musical:
Biden needs to give that 1/6 speech every day, by @MSignorile https://t.co/q9An1c5VUN

— Michelangelo Signorile (@MSignorile) January 7, 2022
Michelangelo Signorile gives Biden high marks for his speech yesterday — needs to be heard just about every day:
Sure, the evisceration of Trump doesn't have to happen each time, and does risk giving Trump more to work with as he energizes his cultish base. But the focus on the overturning of democracy, and the GOP's complicity, is critical if Democrats are win in '22.
Democrats must get bills passed and must deliver for the American people. The economy and the Covid-19 pandemic will surely be major issues, and Democrats must do everything to show they're leading on those issues even as the pandemic takes twists and turns.

But the most powerful thing Democrats can do right now is show, every day, how close we are to an authoritarian fascist state, with the GOP hellbent on using any means, including excusing violence, to attain its ends.
And the most clearcut example is the GOP's whitewashing January 6th and running away from any discussion of it.

Rather than being drawn by Republicans into idiotic, bogus discussions about critical race theory — which is not even taught in schools, but is a new political tool of the GOP — Democrats have to draw Republicans into discussions about the very real threat of another insurrection and a coup in which the military splits allegiance, as three former military generals recently warned.
Democrat have to resist GOP diversions and distractions and bring everything back to January 6th, the topic that causes the GOP to melt down.

The GOP can't be allowed to bow to Trump without being exposed in the eyes of the American people as excusing an attack on the Capitol and promoting further attacks on democracy.
If Democrats continue to hammer home the truth and sound the alarm — as the president and Vice President Harris did yesterday — forcing the GOP to run for cover, they will retain the House and Senate.

Biden laid out a path yesterday. Now he and all Democrats must follow it every day.
Pound it home every day until November and beyond.
If not, Pinball will be right — irony with a full flush of:drooling insanity:
Once again, here we are…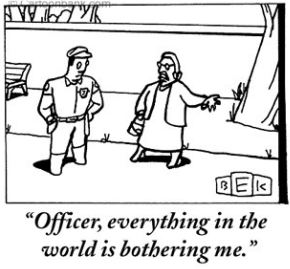 (Illustration out front: New Yorker cartoon by Bruce Eric Kaplan, found here)