Instead of a message of hope in the midst of a runaway pandemic — a self-centered petulant blather (h/t Susie):
Trump begins this by saying "this may be the most important speech I've ever made" — then proceeds over the next two minutes to say absolutely nothing of substance beyond his now-familiar lies about the election https://t.co/iTgPcUYNLm

— Aaron Rupar (@atrupar) December 2, 2020
Beyond the shitty attitude, incompetence and lack of any empathy for any fellow human, the T-Rump is screaming he won the election for a job he can't handle and is allowing thousand of Americans to die from COVID-19 because he's a true-form monster. An empty White House of soul and conscience…
Yet remarkably, the last three POTUS are working the line — via CNN this morning:
This is what presidential leadership looks like.

As President Donald Trump ignores America's slide into a tragic winter and obsesses over his false claims of a stolen election, three of his predecessors are volunteering to bare their arms on camera to build confidence in the vaccines that could finally end the pandemic.
The effort by former Presidents George W. Bush, Bill Clinton and Barack Obama, which was reported by CNN's Jamie Gangel, is sure to infuriate the current commander in chief.
Trump is claiming the lion's share of credit for the unprecedented speed of development of several vaccines — despite his neglect of other aspects of the public health disaster that has killed more than a quarter of a million Americans.
The former presidents are stepping up as America plunges into its toughest battle against Covid-19 before the new vaccines, expected to soon be approved by US regulators, bring deliverance.
But there are few signs that the current President is ready to call on the nation to muster for one last fight against the worsening pandemic before the immunizations become available to most Americans.

Trump's silence comes as his own White House and senior health officials issue their most frightening warnings yet.
The recorded daily death toll hit a record of more than 2,800 Wednesday and 100,000 Covid-19 patients — more than ever before — are hospitalized as fears mount of an even worse post-Thanksgiving surge.
"The reality is December and January and February are going to be rough times. I actually believe they're going to be the most difficult in the public health history of this nation," US Centers for Disease Control and Prevention Director Dr. Robert Redfield said on Wednesday, warning of a potential total death toll of 450,000 by early next year.
…
Freddy Ford, Bush's chief of staff, told CNN that the 43rd President had reached out to Dr. Anthony Fauci — the country's top infectious diseases specialist — and Dr. Deborah Birx, who serves on the White House coronavirus task force, to see how he could help promote the vaccine.

"President Bush will get in line for his, and will gladly do so on camera," Ford said.

Clinton's press secretary told CNN that he too would be willing to take the vaccine in a public setting to promote it.

Obama, in an interview with SiriusXM scheduled to air Thursday, said that if Fauci said the vaccine is safe he would take it.
"I may end up taking it on TV or having it filmed, just so that people know that I trust this science, and what I don't trust is getting Covid," he said.
…
Dr. Jonathan Reiner, a renowned cardiologist and professor at George Washington University, said the looming carnage could be mitigated with the kind of simple measures the President has often decried.
"By this time next week, we are going to be talking about 3,000 deaths a day — that's 9/11 every single day," Reiner told CNN's Erin Burnett.
"We need to mask up. We need to social-distance. In some areas where it is really bad, we are going to need to shut down certain things, like bars and restaurants. We can't keep doing what we are doing now and expect a different result. That is insanity."
Insane is the soft explanation. T-Rump is a beast without peer…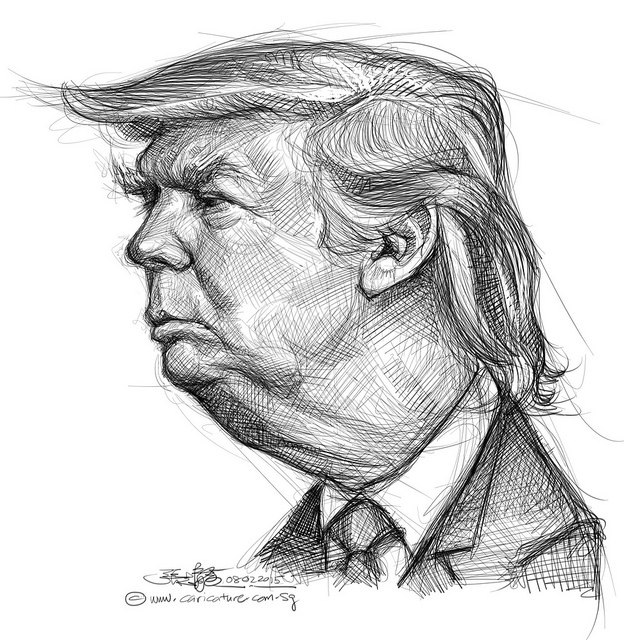 This is my favorite of the T-Rump mugs, though, 'favorite' does not mean in any form or fashion, as in, 'my favorite movie,' or 'my favorite song.'
It's more of an anti-appreciation/like.
And aptly titled, 'Basic Shapes,' by caricaturist/illustrator Chong Jit Leong (found here), and displays the elemental form of a purloined sociopath — a bloated profile of flatulent bile and arrogant ignorance.