Less than two months after taking office, Joe Biden has popped a grand slam:
The House voted 220-211 to concur in the Senate amendment to H.R. 1319 – American Rescue Plan Act of 2021.

— House Press Gallery (@HouseDailyPress) March 10, 2021
Despite what Republicans are blubbering, this package will help take care of Americans — details via Vox about an hour ago:
The American Rescue Plan, which Biden first unveiled in January, will deliver aid to millions of Americans and inject funds across the economy as the country continues to steer its way out of the pandemic.
The legislation passed on Wednesday by 220-211 vote. No Republicans in the House or the Senate supported the package.

To get a sense of how massive the bill is: The recovery package Democrats passed during the Great Recession in 2009 was about 5.5 percent of 2008's GDP; the American Rescue Plan is 9 percent of 2020's GDP.
And much of the money is going to those who need it most.

The bill includes $1,400 stimulus checks to most Americans.
The full checks will go out to single people making up to $75,000 and couples making up to $150,000, and phase out at $80,000 and $160,000, based on 2019 or 2020 tax returns, depending on when people last filed their taxes.
Previous checks phased out at higher income levels, meaning some people who got checks in previous rounds won't get them this time.
However, the legislation includes checks for adult dependents, such as college students and people with disabilities, for the first time.
…
Democrats and Biden also remember the bill they passed to help the country out of the Great Recession.
They thought they'd get to take a swing at follow-up stimulus legislation and then didn't, so the impetus was to do as much as they could this time around.
There have been some naysayers about the size of the legislation, even among Democrats, but the White House has largely ignored them.

"One thing we learned is, you know, we can't do too much here," the president said while speaking to reporters in the Oval Office in February.
"We can do too little. We can do too little and sputter."
And 'sputter' will be Republicans who can ony recite nonsense in the face of one of the most-popular pieces of legislation in recent US history — White House COVID-19 senior adviser Andy Slavitt echoed the merits: ' "When this gets to the President's desk and it is signed, it is really going to be monumental in terms of allowing Americans to breathe a big sigh of relief," Slavitt told MSNBC's Katy Tur on Wednesday.'
And Joe tweeted within minutes of the vote:
Help is here. https://t.co/urZCiigeS1

— President Biden (@POTUS) March 10, 2021
Meanwhile at about the same time today, Merrick Garland was overwhelmingly OKed as the next US Attorney General. Specifics per NPR:
The 70-30 vote for his confirmation comes five years after then-President Barack Obama nominated Garland to serve on the Supreme Court — a goal frustrated by Senate Republicans who refused to even consider a hearing for that post.

Garland, a moderate judge with deep prosecutorial experience, soon will lead a Justice Department reeling from political scandals and racing to confront the threat from violent home-grown extremists.

He has pledged that his first formal briefing and his highest priority will be bringing to justice the rioters who stormed the U.S. Capitol Jan. 6, as well as the people who may have funded and organized that deadly attack in Washington as lawmakers met to certify the 2020 election.
…
Garland, who would be the 86th attorney general, has pledged to return to normal order after four years of tumult under former President Donald Trump.
That included personal attacks on prosecutors and FBI agents and allegations that DOJ leaders had used their power to help Trump's allies and hurt his enemies.
Slowly, but surely…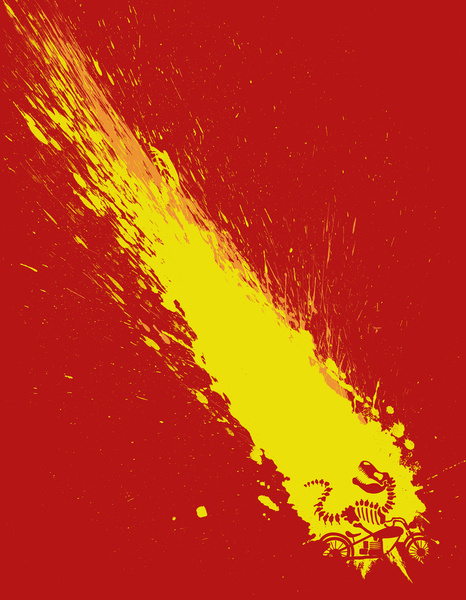 (Illustration: 'Meteor,' found here).