Although there's some thin cloud cover this Thursday here in California's Central Valley, the outside is still hot with the high today forecast to be in triple digits again, and a real scorcher is supposedly scheduled for this weekend.
One must weather the weather.
However, political weather is a little harder to suffer through, especially when the problem is self-centered sadism — how cold-hearted can it get (not a question):
Rep Marjorie Taylor Greene on COVID case surge: "Yes, the waiting rooms get full. But guess what? The waiting rooms are full of all kinds of things, not just COVID," adding "we're human, we can't live forever" pic.twitter.com/cA13oU7kAV

— Jason Campbell (@JasonSCampbell) August 12, 2021
MTG is a horror, but she's an elected Republican legislator who pushes the same shit Ass-Abbott in Texas and DeathSantis in Florida are gung-ho about — allow as many deaths as possible in order to own the libs, or build clout with an unhinged, whacked-out voter-base, or whatever such cruel idiocy — via Raw Story this morning:
During an appearance on the pro-Trump Real America's Voice network this Thursday, Georgia GOP Rep. Marjorie Taylor Greene said that she thinks "more research is needed" before the FDA approves the COVID-19 vaccines that are currently being distributed to Americans.

"Because here's the problem … once the vaccines are approved by the FDA, we're going to see the mandates for vaccines ramp up far more than they are right now," Greene said.
"And I fear they'll become law in some cities and some states. Biden would love to make it the law of the land."

"Again, I'm not anti-vax," Greene claimed.
"I'm completely for people being allowed to make choices, medical choices for themselves and their families and I don't think the FDA should approve a vaccine that doesn't seem to be that effective, especially with COVID-19 raging all over the country — at least that's what the media tells us every single day."
…
"So while the news tries to tell us the hospitals are slam-packed with COVID, that's just not the case," she said.
"Everybody needs to get back down to common sense and remember that, you know, we're human, we can't live forever, we're going to catch all kinds of diseases and illnesses and other viruses, and we get hurt sometimes."
Total hardcore, mean-ass bitch. Too bad if you have a non-COVID emergency, a situation now on Florida's south Atlantic coast — residents were urged yesterday not to call 911 unless they absolutely had to due to the regional medical-care system being overrun with surging Covid cases.
Scary prospects (NBC News):
"If you need to call us, call us. We will never refuse transport," Orlando Dominguez, the fire department's assistant chief of emergency medical service operations, told NBC News on Wednesday.
"But we're also conveying to the public that if you've fallen and might have hurt your knee or you have a cough, things like that, that are not emergent or urgent, they should follow up with their primary care physician or go into a walk-in clinic."
…
Even compared to the pandemic's darkest days of 2020, Dominguez said stress on the system "is a lot worse" now.
And will apparently get much worse, mainly due to the GQPers like MTG.
Nevertheless, this situation is starting to peak with the majority of Americans wanting to get vaccinated, wear masks, social distance, whatever it takes to get rid of this fucking virus and its mutating forms. In obstructing that, MAGA hatters (MTG and the like) are making an uneven playing field for most of us — an 'enough is enough' type routine might becoming a thing.
Ronald Brownstein at The Atlantic this morning looks at the bulk of Americans and the possible backlash against dangerous, and stupid Republicans — go read the whole post, makes sense, maybe with this main point:
As a political calculus, it's "a risky one," says Matthew Baum, a public-policy professor at Harvard University's John F. Kennedy School of Government, and a co-founder of a multi-university study of public opinion on the outbreak.
"Over time, this general sense may grow of 'Why are we who are vaccinated enduring this in order to coddle this liberty fantasy of the unvaccinated?' And I think that is going to get stronger as the inconvenience grows, and as the wind goes out of the getting-back-to-normal sails, which is clearly happening. Everybody I know is pissed off."
Of course, doesn't take rocket science to understand.
Irony way-died during the last couple of decades, especially dead right now:
Best quote ever to describe the entire Trumpian epoch. ??? https://t.co/jBJn5LSXcw

— krisha fairchild, @??? ?? (@krishafairchild) August 11, 2021
This shit comes from MyPillow CEO Mike Lindell's clusterfuck of a so-called "cyber symposium" and was 'the flop of a conference' with the continued lies, bullshit, and non-evidence of a stolen election that's been the focal point of the Big Lie push for months and months.
Glenn Kessler's final The Fact Checker piece at The Washington Post last January — highlight:
Over time, Trump unleashed his falsehoods with increasing frequency and ferocity, often by the scores in a single campaign speech or tweetstorm.
What began as a relative trickle of misrepresentations, including 10 on his first day and five on the second, built into a torrent through Trump's final days as he frenetically spread wild theories that the coronavirus pandemic would disappear "like a miracle" and that the presidential election had been stolen — the claim that inspired Trump supporters to attack Congress on Jan. 6 and prompted his second impeachment.

The final tally of Trump's presidency: 30,573 false or misleading claims — with nearly half coming in his final year.
Fact check is a sad part of modern life, but required due to … Republicans.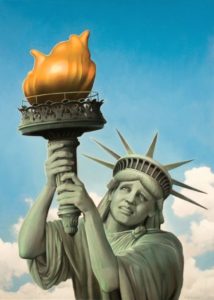 (Image out front by illustrator and portrait painter, Tim O'Brien, and can be found here).