Warm and brown-tinted overcast this late-afternoon Friday here in California's Central Valley, and summer clings to us like the horror of seeing T-Rump play golf.
In my post earlier today on the maybe/seemingly dismal future for American democracy, the picture does look bleak, but a real bright spot I failed to mention with the T-Rump — these people are really dumb as shit. Way-worse than Deep Throat's people. A fault to our advantage, and frightful, too, if a more-intelligent crowd had pulled the same stunts we might be further gone than we are right now.
Scary part upfront — a huge chunk of Americans are deeply embedded within an obvious bald-faced lie (The Conversation yesterday):
For months, my colleagues and I at the University of Chicago Project on Security and Threats have been tracking insurrectionist sentiments in U.S. adults, most recently in surveys in June.
We have found that 47 million American adults — nearly 1 in 5 — agree with the statement that "the 2020 election was stolen from Donald Trump and Joe Biden is an illegitimate president."
Of those, 21 million also agree that "use of force is justified to restore Donald J. Trump to the presidency."
And that's some bad-shit numbers. In that light, it's extremely important the House select committee investigating the Jan.6 insurrection/riot at the US Capitol to go full-bore in making public what exactly created and abetted the event — yesterday, the committee issued subpoenas to a quartet of T-Rump henchmen/assholes to give testimony next month, and the process is apparently only just beginning.
Hopefully/maybe, their incompetence will be our saving grace.
And today, a full spark on the T-Rump ass:
President Biden has determined he will not assert executive privilege to shield Trump-era records from being seen by a congressional committee investigating the January 6 riot, the White House says https://t.co/z88ljA6yav

— CNN (@CNN) September 24, 2021
Jen Psaki announced the decision this afternoon:
"We take this matter incredibly seriously," Psaki said at a press briefing Friday.
"The president has already concluded that it would not be appropriate to assert executive privilege."

"So, we will respond promptly to these questions as they arise," Psaki continued.
"And certainly, as they come up from Congress, and certainly we have been working closely with congressional committees and others as they work to get to the bottom of what happened on Jan. 6."

Psaki told reporters that the Biden administration has not received a request from the former president's team to use executive privilege to protect any of the records, adding: "We don't get regular outreach from the former president or his team, I think it's safe to assume."
Assume nothing from those assholes except chaos and lies — T-Rump is a former president with zero infuence:
Members of the investigative committee argue that Trump no longer enjoys the protection of executive privilege, encouraging the White House to push aside institutional concerns about sharing information with Congress and aid the panel in an investigation focused on what Democrats and a handful of Republicans have called an assault on democracy.

"It's not really relevant because there's no president involved — there's no such thing as a former president's executive privilege," said Rep. Jamie B. Raskin (D-Md.), a committee member who teaches constitutional law.
"That's extremely dilute and not really relevant."
Of course, expect the suck-hole Trump to whine and fight the whole affair, but hopefully to no avail, and maybe his fat ass could be hauled in to give (lying) testimony. The House committee is supposedly focused on how much encouragement T-Rump and his people gave the Jan.6 insurrectionists. One major development in recent days is John Eastman's coup memo, which is dangerous in appearance, in reality, a collection of 'wild scenarios' too stupid to pull off.
Further on the no-executive-privilege action via CNN this afternoon:
The White House later attempted to clarify Psaki's initial comment about exerting executive privilege being inappropriate. They say Psaki was referring to a previous decision by the administration not to assert executive privilege in the committee's attempt to have former Justice Department officials testify about an attempt to oust then-acting Attorney General Jeffrey Rosen.

"The Administration believes strongly in the vital role this Committee is playing and will continue to work closely with it moving forward. Jen was referring to the Administration's previous decision not to assert executive privilege in the matter of certain former DOJ officials who had been called to testify before Congress," an administration official said.
"The Administration will determine any future questions of executive privilege involving documents and testimony on a case-by-case basis, as Jen noted."
…
The White House said on Thursday it was taking steps to release information to the committee about what Trump and his aides were doing on that day, a decision that is likely to set up a legal fight with the former President.
"As President Biden has said, the events of January 6th were a dark stain on our country's history, and they represented an attack on the foundations of our constitution and democracy in a way that few other events have," White House spokesman Michael Gwin said in a statement to CNN.
"The President is deeply committed to ensuring that something like that can never happen again and he supports a thorough investigation into what occurred," Gwin said.
"That's why his Administration has been engaging with Congress on matters relating to January 6 for several months now and will continue to do so, including with the Select Committee."
And not a shock/surprise as the unhinged Arizona election audit turned nasty for the T-Rump:
Chairman @jacksellers on #azaudit draft: "This means the tabulation equipment counted the ballots as they were designed to do, and the results reflect the will of the voters. That should be the end of the story. Everything else is just noise." Full statement below: pic.twitter.com/Rmi824fLwE

— Maricopa County (@maricopacounty) September 24, 2021
He's calling fraud on the Cyber Ninjas' fraud investigation as it didn't find any fraud — the audit was worse than losing the election:
"The ballots that were provided to us to count in the coliseum very accurately correlate with the official canvass numbers," Cyber Ninjas CEO Doug Logan said during the presentation.
He noted that the hand recount found President Joe Biden gaining 99 votes in Maricopa County and former President Donald Trump losing 261 votes — which he called "very small discrepancies."
…
The final report largely mirrored a draft version that had circulated Thursday night, which Maricopa County Republican officials harshly criticized.
"You don't have to dig deep into the draft copy of the Arizona Senate/Cyber Ninja audit report to confirm what I already knew — the candidates certified by the Maricopa County Board of Supervisors, Governor, Secretary of State and Attorney General — did, in fact, win," board chairman Jack Sellers, a Republican, said in a statement in response to the draft.
"This means the tabulation equipment counted the ballots as they were designed to do, and the results reflect the will of the voters," he said. "That should be the end of the story. Everything else is just noise."
Onward bullshit-lying still as the same T-Rump instigated shit bubbles up in Texas.
Not very bright thugs and way-nasty assholes:
Once again, here we are…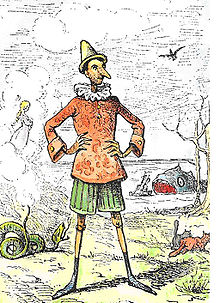 (Illustration out front: 'Pinocchio,' by Enrico Mazzanti (1852-1910), found here)