As a former resident of Florida — I spent the first big chunk of my life there, attended/graduated from the University of Florida — this news from the Sunshine State isn't a surprise, considering the state of the state the last few years, but yet it's still scary-shitty:
She's the former Dept of Health employee who built the COVID-19 dashboard. She was fired after refusing to manipulate data for @GovRonDeSantis. Now he's ordered a Gestapo style raid on her home, guns pointed at her and her kids. https://t.co/IXnM0Pr8ew

— Randi Mayem Singer (@rmayemsinger) December 7, 2020
Background/details via the Tallahassee Democrat this evening:
Jones — who launched her own COVID-19 dashboard after she was fired, and used crowdsourcing to raise money to support it — said the agents knocked on her door around 8:30 a.m. that morning, took all her "hardware and tech" after showing her a warrant based on a complaint filed by the Florida Department of Health.

A video accompanying the post shows Florida Department of Law Enforcement agents in vests at the front door with guns drawn, asking who else was in the house. She said her husband and two children were inside as they escorted her out of the house.

The video shows an agent entering the house with his gun drawn, calling for her husband to come down the stairs. When an agent told her to calm down, Jones said, "He just pointed a gun at my children!"

FDLE spokeswoman Gretl Plessinger sent a statement confirming the seizure of computer equipment at Jones's Tallahassee home and said agents are investigating.
…
Jones was fired for insubordination in May after being reprimanded several times, state officials said.
Her paperwork doesn't state a cause for her being fired, but she claims she was terminated for refusing to manipulate health data to cast Florida in a more favorable light.

She tweeted: "They took my phone and the computer I use every day to post the case numbers in Florida, and school cases for the entire country. They took evidence of corruption at the state level. They claimed it was about a security breach. This was DeSantis. He sent the gestapo."
…
The DOH said recently that someone hacked the emergency communications channel.
Jones told a reporter that she is not a hacker: "I don't know how to do that stuff."
…
An unidentified subject gained access to the system and sent out a group text saying: "It's time to speak up before another 17,000 people are dead. You know this is wrong. You don't have to be a part of this. Be a hero. Speak out before it's too late."

The text message was sent from the ESF-8 mail account to 1,750 recipients before the software vendor could stop the message from being transmitted further, the affidavit said.
…
Jones told a reporter for the USA TODAY NETWORK-Florida that her sources at DOH told her an email had gone out across the department from the ESF-8 email account around the time that five of eight team leaders had been fired.

Jones told the reporter that a series of firings and resignations in DOH, including recently departed public information officer Alberto Moscoso's departure, were "a purge."

"It's like a massacre. And those aren't the only people that have been fired or left," she said.
DeSantis is a T-Rump ass-kissing asshole. He's allowed thousands to suffer and die from COVID while clawing for the state to open, despite record cases of death. The Fordia state government is a snake-pit of shit.
In related notes, the South Florida Sun-Sentinel recently investigated Desantis and his crap, but the site has a pay wall — an interview with one of the Sun-Sentinel reporters at CBSMiami this morning has some reality:
So in the weeks leading up to the election, we essentially discovered that the DeSantis administration had ordered public health officials not to discuss the COVID-19 virus with the public.
So no press releases about COVID-19 were coming out from the Florida Department of Health.
And the Florida Department of Health's messaging to the public shifted remarkably online.
The term that we kept hearing again and again for this was "blue sky" messaging, in the lead up to the election.
'Blue Sky' messaging? WTF?
Well, it's almost a directive to talk about anything other than the virus itself.
"Go get your flu shot. Watch out, it's radon season. Make sure that you get your yearly checkup, or that you're, you know, doing all of the other health things that you should be doing."
But the Florida Department of Health, which is the main public health agency in the state, wasn't talking about the pandemic, it wasn't talking about COVID-19.
It was talking about everything else.
Read the whole piece, it's fairly shocking. Yet with T-Rumper Republican governors nationwide, it's about the same — bullshit to death. Some history on the Rebekah Jones situation from a piece last May at the Guardian.
If there's any type 'normal' future, these assholes will be grouped with the Hitlers and the Pol Pots, and the T-Rumps.
Meanwhile, here in California we're experiencing our first day of a lockdown due to the fact COVID is running rampant, overloading our health-care system. SFGate this afternoon: 'In the past 24 hours, the state reported 24,735 new cases and the seven-day daily case average has hit a new high at 21,924. Hospitalizations are up 72-percent across the past two weeks and admissions in intensive care units 69-percent.'
Speaking of the Hitler:
As Pinball immeasurably notes: "We be fucked."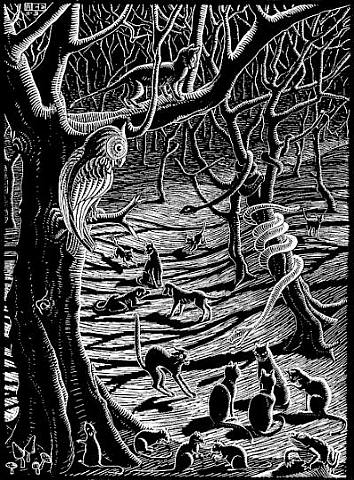 (Illustration: M.C Escher's 'Scholastica,' found here).