As we work our way into the new year, the less-than-two-week-old Joe Biden presidency has turned around a lot of how the country sees the White House operation, not only in more truthful press briefings, but also how the current group holds the cards closer to the vest.
And offers more control, especially with swatting away of bullshit:
Psaki calls out a reporter for asking a "many people are saying" question he can't back up pic.twitter.com/OyweIQiVwB

— Aaron Rupar (@atrupar) February 1, 2021
These White House press conferences have usually had one or two truthful burns in contrast to the previous regime and today was no exception — via Raw Story:
"There are Democrats who are seeing that the first meeting the President is having face-to-face with lawmakers is with Republicans and not Democrats. Why is the White House doing that?" asked CBS News' Ed O'Keefe.

Are there any specific Democrats you want to call out?" Psaki offered.

"No, but it's been talked about," he replied.

"Just people talking about it in hallways? Ok," Psaki responded, effectively though politely dismissing the question he couldn't back up, and sending a strong message to the press that gossip won't be entertained in the briefing room.
The T-Rump was fond of using such bullshit (before being kicked off Twitter, and abandoned press briefings) as 'just people are talking', or the old stand-by, 'many people are saying, and in 2016 actually used a version with "…a lot of people are saying that…" without having to offer any evidence. In that particular case, T-Rump was talking about President Obama playing mind-games understanding radicalized Muslim terrorists, and could, maybe, be a terrorist sympathizer himself.
Also at today's press briefing, per Forbes: 'White House Press Secretary Jen Psaki confirmed Monday that the Biden Administration is weighing whether to strip former President Donald Trump of his access to intelligence briefings — a luxury typically granted to former presidents — after some outside officials expressed concern that Trump will exploit the information and use it to his personal advantage.'
Hard note last month from Adam Schiff, chairman of the House Intelligence Committee: '"There's no circumstance in which [Trump] should get another intelligence briefing…I don't think he can be trusted with it now, and in the future."'
Psaki in addition applied a T-Rump burn today:
Jen Psaki on Trump: "I can't say we miss him on Twitter."

— Kyle Griffin (@kylegriffin1) February 1, 2021
Snips via the Guardian's live blog this morning:
A reporter asked Psaki whether she believed Trump's lack of access to Twitter had made it easier for the White House to negotiate with Republican lawmakers.

"We don't spend a lot of time thinking about President Trump here," Psaki replied.
She added, "I can't say we miss him on Twitter."
Still a wonder in bright sunlight compared to the last four years.
In context with that and the press, some commentary from CNN reporter Kevin Liptak, who has covered the White House since Obama, on how Biden's team handles the media (of course, at CNN last Saturday) — initial difference:
The return of the daily White House briefing, which began hours after Biden was sworn into office, is the most concrete change and seemed to have been done to overtly signal a return to a more "normal" relationship with the press corps.
That has extended to the hours of briefing calls and reams of fact sheets the White House has distributed on its daily executive actions.
It's all a return to how press relations was done under administrations before Trump, whose era in the White House was defined by open hostility to reporters.
Of course, it was also marked by rampant leaking and almost radical insight into the presidential psyche, via Twitter and his unguarded press conferences.
So for what we've gained in civility and professionalism I think we probably have lost in knowing what the President is thinking at any given moment.
What seems different with Biden:
The nature of Biden's appearances so far has been much less conducive to the avuncular style he once was known for.
That seemed to start on the campaign trail, maybe to give voters the impression he could adopt a more commanding attitude if elected President.
Now we see him for a few minutes every day, usually standing at a podium announcing new executive actions and then signing them.
It's all very stage-managed.
He has answered a few tossed questions and my colleague Kaitlan Collins was able to catch him in a West Wing hallway.
But the side of Biden we're more familiar with — the backslapping guy who knows your grandma — seems for now to be kept under wraps.
And the lasting effect of the T-Rump:
If anything, Biden and his team are trying to demonstrate the presidency can return to what it was before Trump.
I think that's an active goal of theirs rather than just a side effect of how they're approaching the job.
But it's going to take a lot more than a return to regular order at the White House to restore the faith in institutions that Trump actively sought to erode during his presidency.
Biden inherited a job that became smaller under Trump — people no longer looked to the Oval Office for a role model or a leadership figure — and in a country so polarized it remains to be seen whether, once it's gone, that's something that can be easily restored.
Damage done to this country by the T-Rump and his henchmen/women is near-immeasurably astronomical.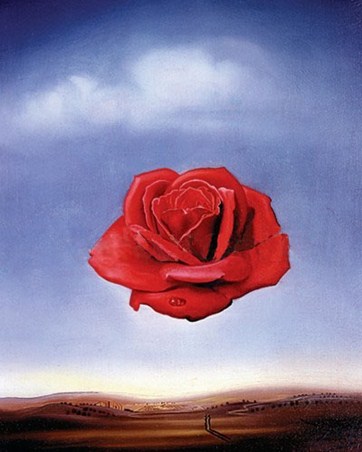 (Illustration: Salvador Dalí's 1958 painting, "Meditative Rose," found here).