Sunshine again this late-afternoon Saturday here in California's Central Valley — there was deep fog earlier but burned off and we found ourselves with a nice autumn day, with warmish temperatures stoked by cool, wimpish breezes.
In this region and for the time, about as good as it gets.
However, can't be said for that shit-faced COVID-19 pandemic. Statewide we were doing okay, but apparently, there's a bit of a surge happening now — though, nothing like in 2020, but still enough to concern health professionals: '"We are still in a risky situation even though we are in a much better situation than we were before," Dr. Grant Colfax, San Francisco's health officer, said during a briefing Wednesday.'
According to Johns Hopkins University, as of yesterday, the US had recorded 768,836 COVID-19-related deaths and nearly 47.5 million COVID-19 cases, Here in my state, there's a reported 5,001,249 cases altogether, with 73,000 deaths, and so far, 63.5-percent of the state's population has been fully vaccinated.
In my county so far, 46.79-percent of the total population of 285,000 have been vaccinated — running well behind statewide levels.
Recently, the state has experienced a small, but significant surge, though, even in areas of high vaccination rates, the reasons why remained unclear for investigators — L.A. County Public Director Barbara Ferrer: '"I was a little disappointed for us to not be able to come away from this and say, 'yeah, this is crystal clear. These communities in the top 10 with recent high case rates are communities with low vaccination rates…' But it isn't true here."'
WTF?
As we head into the holidays and the dead of winter, not a good time for another bout with this infuriarating virus that simply won't go away. In 2020 during the same period, 250,000 died, but there were no vaccines then, and the future looked bleak — and now:
What will determine whether we have another terrible pandemic winter?
1) How much immunity we have and how well it holds up
2) How the virus changes
3) How we behavehttps://t.co/9qs51TU243

— nxthompson (@nxthompson) November 20, 2021
Shitty spotty and maybe scary story on our coming COVID winter from Sarah Zhang at The Atlantic last Thursday — the unknowns weigh on the knowns, of what's to come:
How bad will it get? We are no longer in the most dangerous phase of the pandemic, but we also have not reached the end.
So COVID-19's trajectory over the next few months will depend on three key unknowns: how our immunity holds up, how the virus changes, and how we behave.
These unknowns may also play out differently state to state, town to town, but together they will determine what ends up happening this winter.

Here are the basic numbers: The U.S. has fully vaccinated 59-percent of the country and recorded enough cases to account for 14-percent of the population. (Though, given limited testing, those case numbers almost certainly underestimate true infections.)
What we don't know is how to put these two numbers together, says Elizabeth Halloran, an epidemiologist at the Fred Hutchinson Cancer Research Center.
What percentage of Americans have immunity against the coronavirus—from vaccines or infection or both?

This is the key number that will determine the strength of our immunity wall this winter, but it's impossible to pin down with the data we have.
This uncertainty matters because even a small percentage difference in overall immunity translates to a large number of susceptible people.
For example, an additional 5-percent of Americans without immunity is 16.5 million people, and 16.5 million additional infections could mean hundreds of thousands more hospitalizations.
Because unvaccinated people tend to cluster geographically and because many hospital intensive-care units run close to capacity even in non-pandemic times, it doesn't take very many sick patients to overwhelm a local health-care system.
…
At the beginning of the pandemic, scientists thought that this coronavirus mutated fairly slowly.
Then, in late 2020, a more transmissible Alpha variant came along. And then an even more transmissible Delta variant emerged.
In a year, the virus more than doubled its contagiousness. The evolution of this coronavirus may now be slowing, but that doesn't mean it's stopped: We should expect the coronavirus to keep changing.

Alpha and Delta were evolutionary winners because they are just so contagious, and the virus could possibly find ways to up its transmissibility even more. But as more people get vaccinated or infected, our collective immunity gives more and more of an edge to variants that can evade the immune system instead.
Delta has some of this ability already.
In the future, says Sarah Cobey, an evolutionary biologist at the University of Chicago, "I think most fitness improvements are going to come from immune escape."
…
The coronavirus doesn't hop on planes, drive across state lines, or attend holiday parties. We do. COVID-19 spreads when we spread it, and predicting what people will do has been one of the biggest challenges of modeling the pandemic.
"We're constantly surprised when things are messier and weirder," says Jon Zelner, an epidemiologist at the University of Michigan.
Of course, the surprise doesn't come from how the spread happens, or who's the shitheels behind it — anti-vaxx Republicans. And the origin story on the horrible COVID numbers:
Worth thinking about this when we wonder about the partisan vaccination divide https://t.co/1apWw4WcZ8

— Molly Jong-Fast (@MollyJongFast) November 20, 2021
Remember this from a study released in September naming the T-Rump as chief anti-vaxxer asshole (via The New York Times):
That is the conclusion of researchers at Cornell University who analyzed 38 million articles about the pandemic in English-language media around the world.
Mentions of Mr. Trump made up nearly 38-percent of the overall "misinformation conversation," making the president the largest driver of the "infodemic" — falsehoods involving the pandemic.
…
"The biggest surprise was that the president of the United States was the single largest driver of misinformation around Covid," said Sarah Evanega, the director of the Cornell Alliance for Science and the study's lead author.
"That's concerning in that there are real-world dire health implications."
No shit.
In context, keep this in mind — from The Hill last Tuesday:
Unvaccinated adults are more than three times as likely to lean Republican than Democratic, demonstrating the widening partisan divide in Americans' vaccination status, a Kaiser Family Foundation analysis found.

The analysis published Tuesday determined that the 27-percent of people who say they're unvaccinated are "disproportionately" Republican or Republican-leaning, based on data from the nonprofit's COVID-19 Vaccine Monitor in October.

Sixty-percent of unvaccinated people identify as Republican or Republican-leaning, despite making up 41-percent of the adult population.
Meanwhile, 17-percent of the unvaccinated population are Democrats or Democratic-leaning.

According to the data, a Republican is 26-percentage points more likely than a Democrat to have not received a COVID-19 shot.
The T-Rump will most-definitely skip accountability on allowing hundreds of thousands of Americans to die needlessly. Despite all the noise on the Big Lie, the horror of the Big Kill will float past in history.
And once again, here we are.,.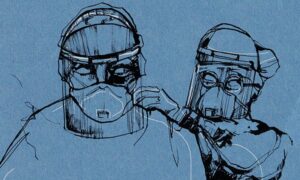 (Illustration out front: 'This Is Why Nurses Do What They Do,' by visual journalist Emily Thomas, and found here)